Putting your efforts to create any file and not able to share with your colleague/friend/boss via email, becomes frustrating as your email service don't allow you to share large size file i.e. even not more than a few MBs. What about sharing your file using any external file transfer service like Google Drive, DropBox, wetransfer etc?
Ah! Your company's policy doesn't allow you to use any external service. Yes! This is again head breaking problem.
Using a simple opensource tool that you might be using in your organization will help you to transfer that large chunk of the file. Even, if you are not using, you can install this tool that we will discuss further. Also, this tool will abide by all your company policies.
The tool is 7zip. Yes, 7zip will help you to share large size files over email easily. Wondering how? I will show you how you can share a large size file i.e. 6GB over email.

Let's see how you can use 7zip to share large size files over email:
Zip your file using 7zip. Whichever file you want to share either single or group of files, use winrar/7zip/compressed folder to create a zip file.
Now Right Click on zipped file >>7 zip >> Add to archive.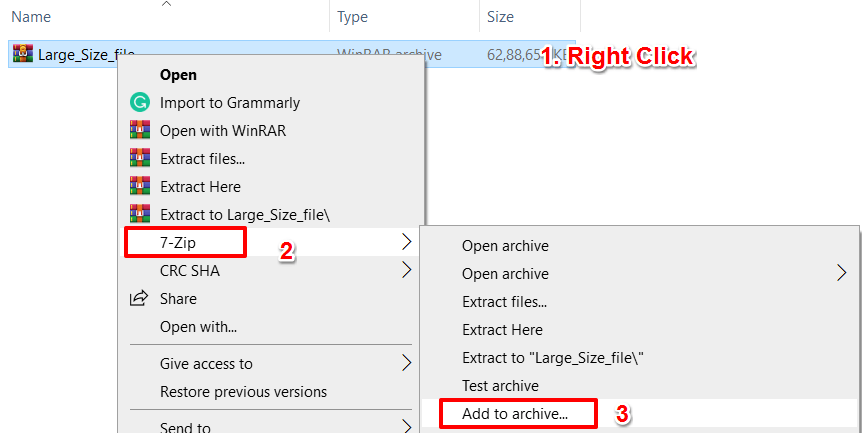 It will open Add to Archive window that will show archive options. Here you can see the field Split to Volume bytes. You will have to specify the size in bytes/ Megabytes as per your requirement. Here I will split my 6GB files into 1.5GB each, so I will enter the value as 1500M i.e. approx. 1.5GB. Click on OK button to proceed.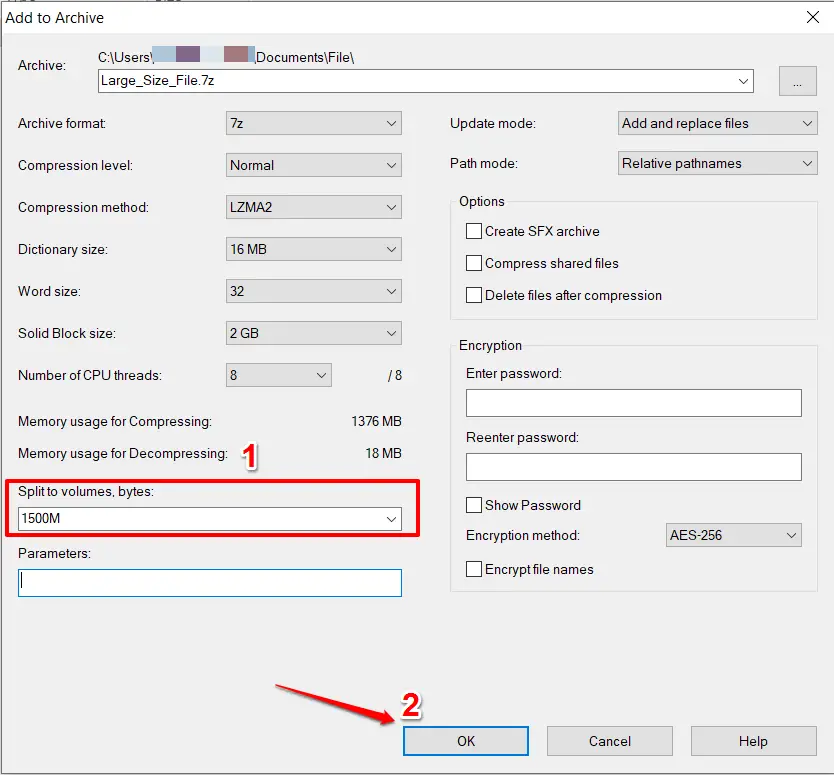 Once you click on the OK button, 7zip will start splitting your files into the specified size.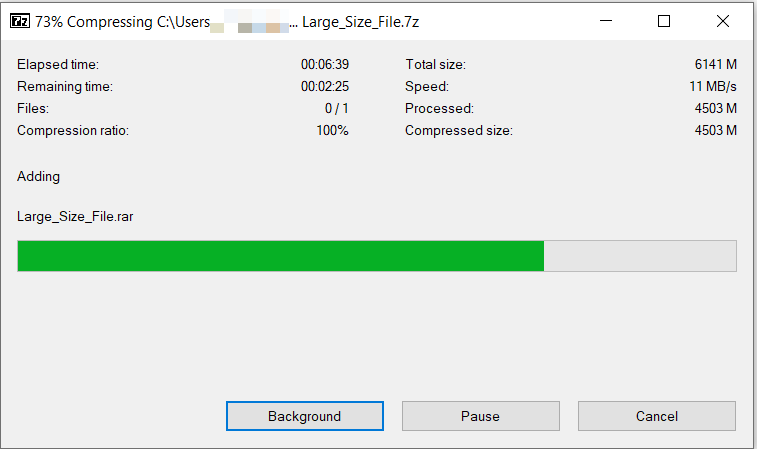 Once the file splitting process is completed, you can check your folder where the zip file was placed. Here I can see 5 parts of the file with size as 1.5GB each along with my original file. The last split is of smaller size as my original file is of size more than 6GB. Hence dividing file size with 1.5GB split will leave the last file with a smaller size.

You may like to read: Easy way to Transfer file from your Smartphone to your laptop
Here, I have converted the big fat file into small pieces. Now you can share each file via separate mail to the concerned person. Now you will think how this file would be useful to the receiver as the file you sent is not original file instead the pieces of the original file.
The next step is to be done by the receiver. He/she should also have 7zip installed in their system. Once they downloaded each split file from the email, they should keep all files in a single folder.
Open 7-zip file manager. Go to Start >> 7-zip file manager. Browse the folder location where all downloaded file has been placed. Once you are in the folder, Right click on the first part of the file (file name of first part should be …….7z.001) and click on Combine files… option.
Once you click on Combine files… option, next window will show you all the files it has picked to combine. Now click on the OK button.
Following the above step will start combining all the downloaded split parts.
This will combine the downloaded split files into the original file. You would be able to see the original file in the same folder along with other files.
Hurray! You are done. The large size file has been successfully transferred over the mail without using any external paid service.
You may like to read: Transfer file from phone to laptop using your wifi
I know this would add extra efforts to share a single file with someone. But this effort is worth than breaking your head with email size limit or looking for any other online services. if you know any such useful tricks, you can share with me using the below comment box or contact us page.
Want to get similar cool tech stuffs in you Inbox? Subscribe to my Feed!