Google Drive File Streaming is a software application that lets you easily access your Google Drive data and mount them directly to a virtual drive on your local machine without taking up drive space. You can also choose to keep files or folders offline for editing, and those changes you make will be synced to Google Drive on the web the next time you connect to the Internet.
Google recently announced that users of Backup and Sync and Drive File Stream will need to move to a new sync app called Google Drive for desktop. After October 1, 2021, anyone still using Backup and Sync or Drive File Stream will no longer be able to log in and will need to transition to the desktop version of Google Drive to continue using it.
How to Perform Google Drive File Stream Local Backup
Many users have a need for streaming local backups of Google Drive files because they can access their files on demand without taking up local disk space or wasting time syncing large folders. Aside from doing this with the new Google Drive desktop app, this article will introduce the easiest ways to achieve the goal – using free backup software to help you. You can read on for more details.
Easiest Way to Perform Google Drive File Stream Local Backup
While the desktop version of the Google Drive app offers users new features and functionality, it doesn't fully guarantee the security of files. Therefore, you can choose a safer and simpler way – backup your local files to Google Drive with the free third-party backup software AOMEI Backupper Standard.
Google Drive backup file is a direct copy of the original file, while AOMEI Backupper will have an image file after backup. Plus, you can back up your files to multiple devices to increase the security of your files.
After backing up your local files to Google Drive with AOMEI Backupper, you can access your cloud files offline anytime. If you only want to access your files in the cloud, then you can delete local files to save local disk space. After the local file is deleted, the cloud file still exists without any impact.
If your Google Drive is running low on memory, you can use the free cloud backup software CBackup to combine multiple free cloud storage services into a larger, even unlimited cloud backup space without spending money on critical data backups of storage. For example, Google Drive offers 15GB of free storage, so you can easily get 45GB of backup storage by adding 3 free Google Drive accounts to CBackup. Dropbox and OneDrive are also supported.
Step 1. First, you need to download AOMEI Backupper Standard, install and launch the software. Select Backup and then File Backup.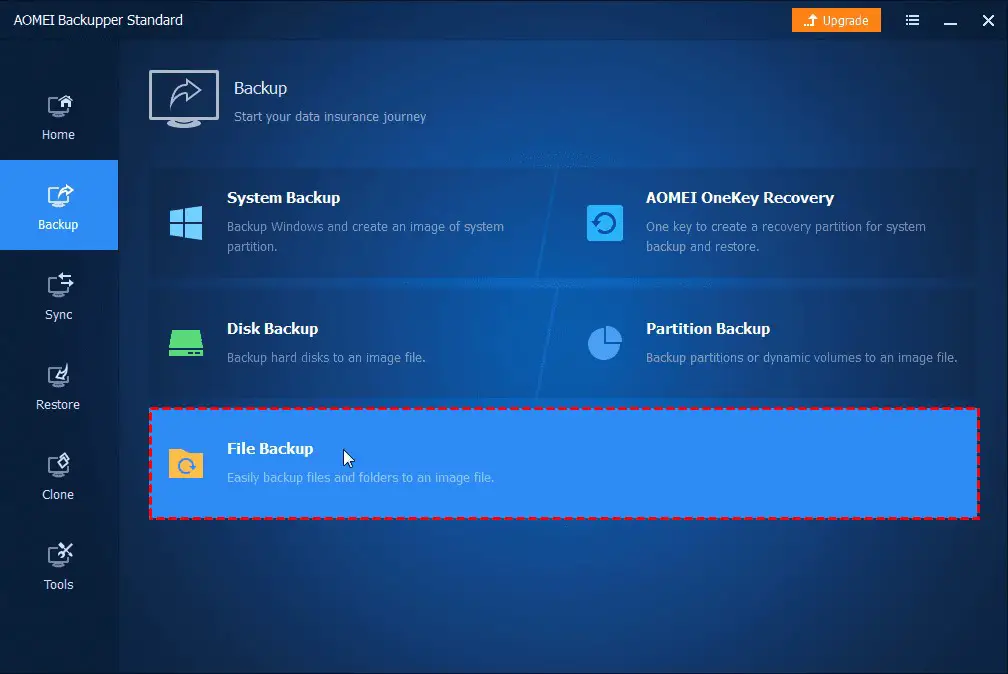 Step 2. Then click Add Folder or Add File and select the files or folders you want to back up.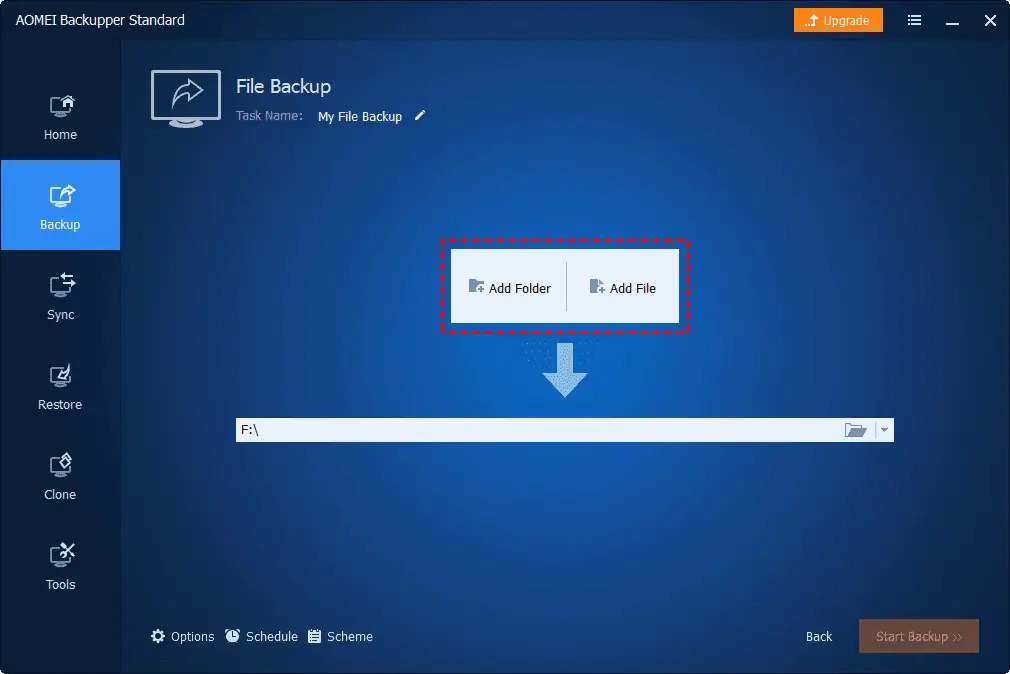 Step 3. Click the inverted triangle on the right edge of the second column, and click the Select a cloud drive option.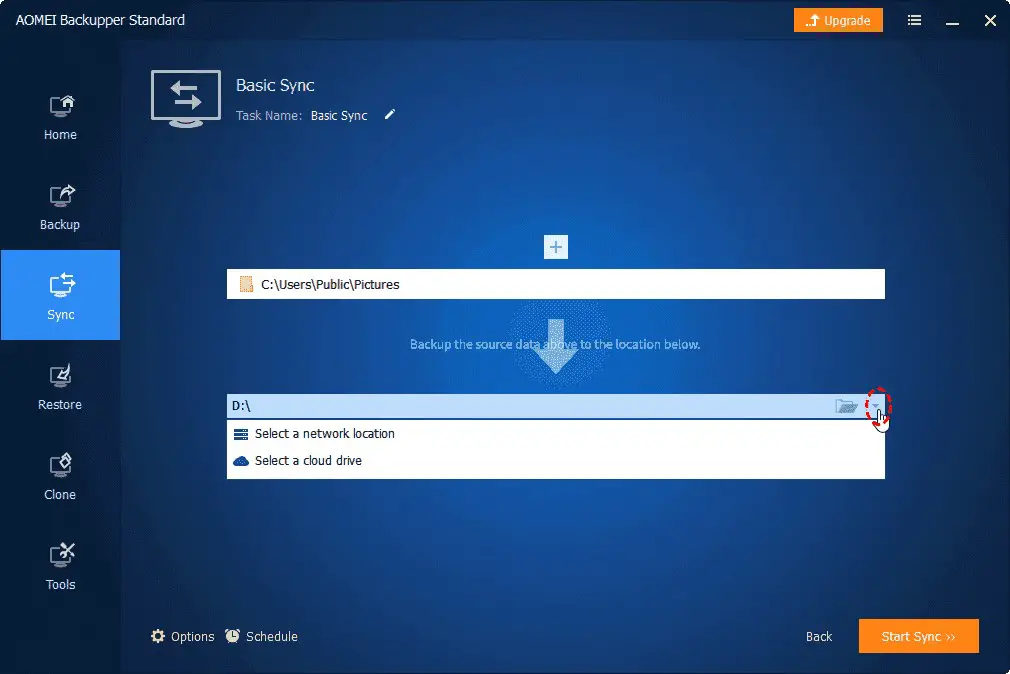 Step 4. Select Google Drive and click OK.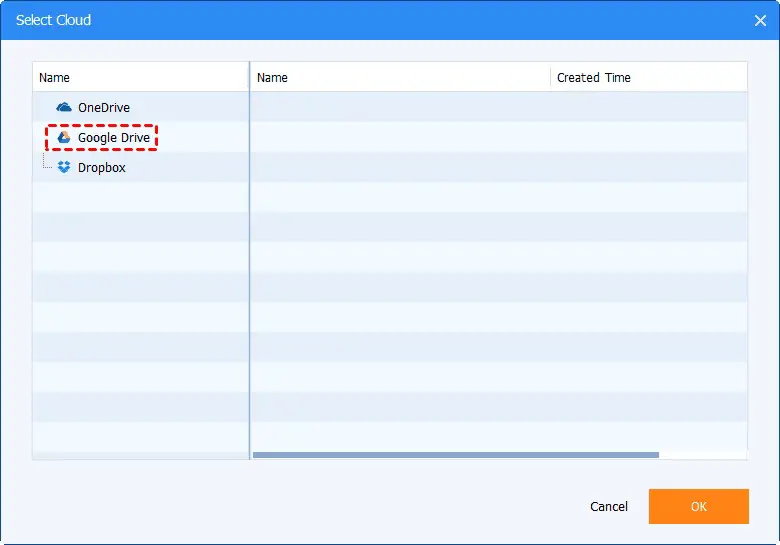 Note:
If you can't find Google Drive in the list, then go back to step 3 and manually navigate to the Google Drive folder by clicking the folder-shaped button in the second column.
Step 5. Make sure everything you did is correct, then click Start Backup.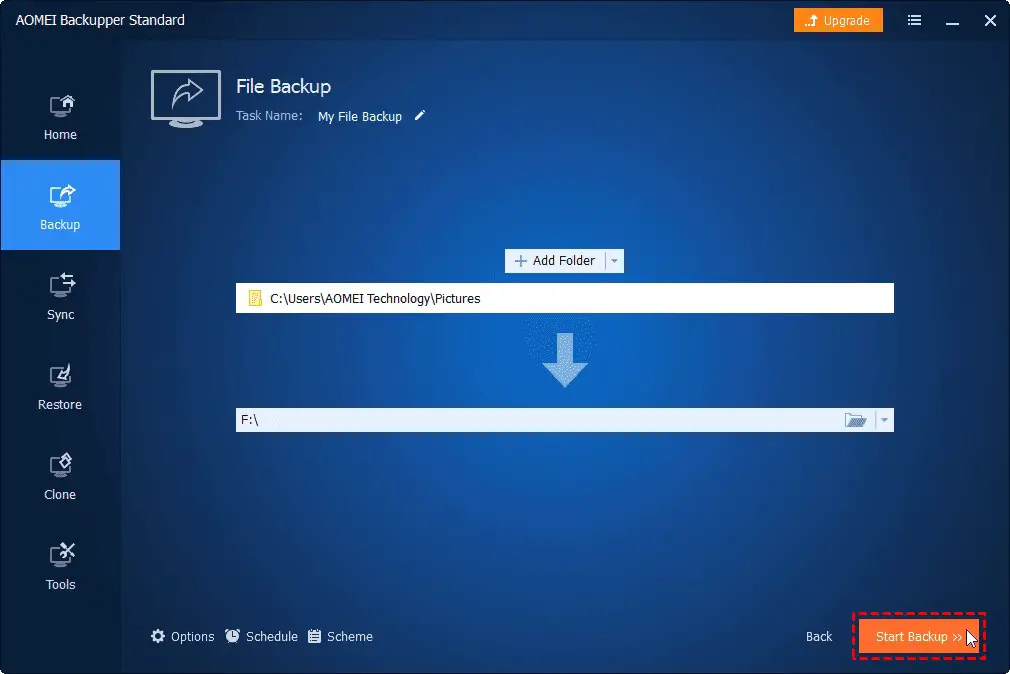 Also check: Powerful data recovery minitool.
Tips:
Options:

This software also offers features to compress, split image files, write comments or enable email notifications for your file backup tasks.

Schedule:

You can set different backup frequencies yourself, such as Daily, Weekly, Monthly, Event trigger and USB plug in. The last two are available in the professional version. Then the software will automatically back up your files for you on a regular basis according to the frequency you set.

Scheme:

You can choose different backup methods to run your backup tasks, including full backup, incremental backup and differential backup. The latter two methods can improve backup efficiency, and you can upgrade to AOMEI Backupper Professional to enjoy them. After the upgrade, you can also enable automatic backup cleanup to delete redundant backup files to save disk space.
Conclusion
This article shows you the easiest way to perform Google Drive file stream local backup, that is to backup local files to Google Drive with free third-party backup software – AOMEI Backupper Standard. The software will have an image file after the backup, and you can also back up the file to multiple devices to enhance the security of the file. If needed, you can delete local files to save local disk space. This software also supports scheduled backups, and you can set different backup frequencies according to your own needs. You can download this software to explore more functions.
Want to get similar cool tech stuffs in you Inbox? Subscribe to my Feed!