Google Chrome, a highly used browser. The Chrome team always tries to optimize the user experience by seeking feedback from the user. A Software reporter tool is another form of feedback providing bots. It allows the chrome team to know about any application or malware affecting chrome function on the user system. It runs weekly or on chrome updates to send feedback to the Chrome team. You might be wondering, does it also share user data with a team? Can you disable Software Reporter Tool in chrome? Will it be helpful/harmful to your computer?
Let's know more about the software reporter tool in Chrome. Is it safe or not?
What is Software Reporter Tool?
This tool comes with a Google Chrome browser which you would have installed for fast browsing. It runs when you open chrome browser. It is used to identify any third-party tool or any malware function/tool affecting chrome functionality.  An identified tool or software is being reported to the Chrome team to take necessary action.
As a tool scans entire system software that interacts with chrome, it uses high CPU while running. Hence it runs weekly or when chrome is updated in your system. I hope now you are aware and got an idea about the software reporter tool.
Is Software Reporter Tool safe?
Now as you are aware that the chrome software reporter tool sends data related to tool or software install on your computer, you might become suspicious about your data policy. But don't worry this tool is safe as it doesn't send any user-related data using this tool. This tool is digitally signed by Google and safe for your computer. But it may use your entire CPU memory while running.
Now you may get thought about removing running tools from your computer to avoid high CPU usage. Continue reading to know, how you can remove or disable Software Reporter Tool from chrome?
Steps to remove or disable Software Reporter Tool
There are different ways to remove or disable Software Reporter Tool. Using a few methods if you disable Software reporter tool, it gets enable again when Chrome gets updated or when Chrome/computer is restarted. So here I will show you one method which will disable Software Reporter Tool permanently from your computer.
These steps include revoking permission to run this tool on your computer. Just follow the below-mentioned step by step solution to disable Software Reporter Tool.
Open RUN window using Window key+ R or go to Start menu and type RUN and click in RUN program to open window. Type below path and press OK to open SwReporter folder
Path: %localappdata%\Google\Chrome\User Data\SwReporter
In the opened window, go to the folder as shown below. Name of folder specifies the version of Software reporter tool with Chrome.
An open folder which is shown in step 2. You would be able to see a list of dll files along with software_reporter_tool.exe file. Right-click on software_reporter_tool.exe file and click on properties.
In the properties window, go to the Security tab and select the user i.e. SYSTEM. You would be able to see the selected user is allowed for full control. Click on Edit option to edit permission for the selected users on Software Reporter Tool. You can remove either the user or all the permission by un-checking the checkbox under Allow. If you are not able to remove/uncheck Allow options, just select all checkbox under Deny option.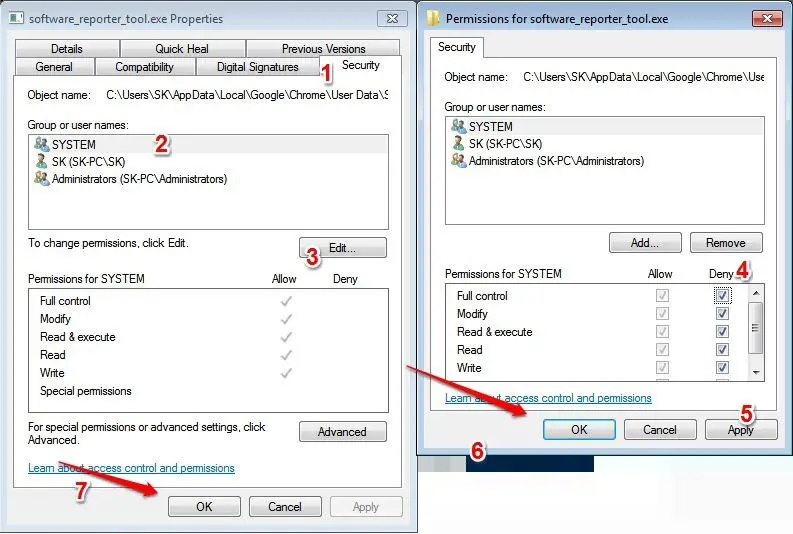 You are done! Just click on Apply and close the window one-by-one by clicking on OK button.
Using these steps you have disabled the software reporter tool from executing. Now you can save your CPU usage using the above steps. There are other ways too to disable Software Reporter Tool. But this was the easiest and not too technical.
Want to get similar cool tech stuffs in you Inbox? Subscribe to my Feed!