Google Chrome one of the popular browsers, daily used for browsing over World Wide Web. You use this browser not only in your desktop, laptop but also in your smart phone.
Get latest Google chrome for fast browsing. Don't you thing if you are using anything daily then you should try to put less efforts or less time to do same work again and again.
Same goes with your browser. Let's have a look over some killer Google chrome tricks to use Google chrome as fast as you can. I have tried and collected a good numbers of tricks which I will be sharing with you into parts. Let's have a look over first part of killer trick in Google chrome from my list.
5 Google chrome tricks and shortcuts:
Use

chrome URL

to access History, Bookmarks, Downloads, Install Extension
chrome://downloads/   -To check downloaded file

chrome://bookmarks/    -To check Bookmarked sites

chrome://extensions/     -To check installed Extensions

chrome://history/           -To check browsed history
You can use above URL directly to check data like your downloaded files, games, music, videos etc. also to check you bookmarked sites, installed Extensions and history. These URL provides you easy access instead of searching same option in chrome setting. There are many other chrome URL which can be useful as per your requirement. Check this list of all chome URL(chrome://chrome-urls/)
Also check : Recover Data Using MiniTool Power Data Recovery
For e.g.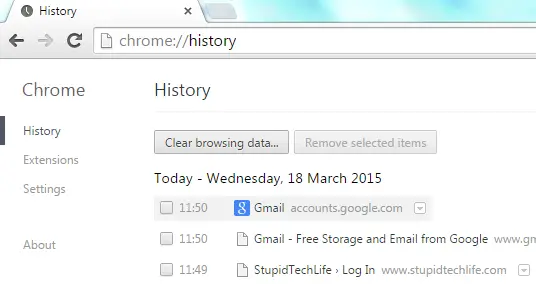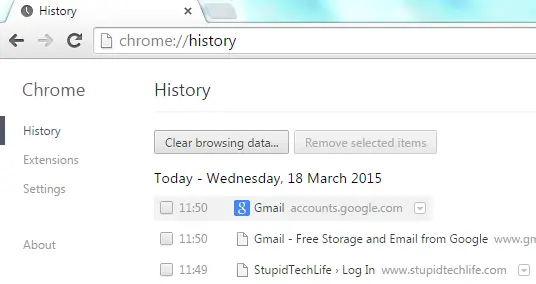 Use favicon to access your most visited site

This colorful bar with different favicon is nothing but a bookmark having favicon of bookmarked sites. Looking cool right? 🙂
Let's see how you can do this on your browser.
First of all you need to enable your bookmark to show in chrome as shown below.

Now visit your favorite or most visited site and click on star button present on right side in address bar to bookmark that site/blog. And delete the site name while bookmarking as shown below. That's it!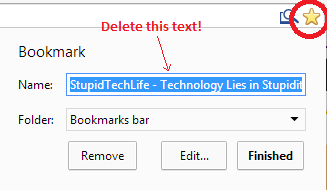 Also Check : Download your blog and access it offline
Arithmetic Calculation in search box.
As you all know Google search engine works like a wife/girl.
Who start predicting your mind before you complete your sentence. 😛
Yes, Google's algorithm is efficient enough to predict your mind for whatever you type in search box. This algorithm is also enhanced to solve your arithmetic query in search box itself.

It also works for conversion like unit conversion (km to m, etc).
Add Home Button to toolbar
Chrome provide lots of shortcut and quick access to data but still you may like to have home button in your toolbar to get instant access to your homepage.
You can enable this 'Home button' by going to setting option or use link mention in 1st trick in same article i.e. 'chrome://settings/' and under 'Appearance' click check box for 'Show Home button' . You can also see option to enable 'Always show the bookmark bar'.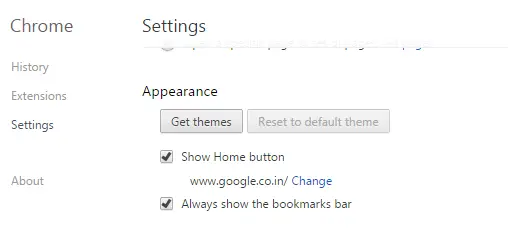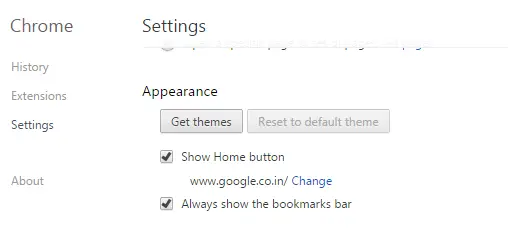 Once you will click in check box to 'Show Home Button' you can even set or change website or blog for your homepage using option provided there.
Pin the open tab
Many times it happens that you had opened many tabs but your browser bar didn't have space to show detail information of that open blog/site. In such case you use this trick to pin that tab in browser bar so that it would occupy less space in the browser bar and you will get more space to open more browser.
To do this you have to right click on respective tab followed by 'Pin tab'
After pinning tab you can see only favicon of that respective website/blog.
At the End:
This was first part of 5 Google chrome tricks and shortcuts from my list. There are many more to go which I will be covering in second part of 5 Google chrome tricks and shortcuts.
If you have tried any other tricks and wants me to include that too in my list. Please do share in below comment. 🙂
Want to get similar cool tech stuffs in you Inbox? Subscribe to my Feed!