Now-a-days almost everyone is photogenic. Who don't like to take their selfies and share on social media to express how they are feeling? But most of you struggle to get perfect selfie. Here I have collection of best android and iOS app that will help you to click perfect selfie of yours. These best filter app for selfies will help you to make your selfies more alive, lovely and shareable on social media.
5 best filter app for selfies
Air Brush : Easy photo Editor
Air Brush app is specially designed to apply filter on selfie photo. This app comes with in-built filters which will make your photo more appealing. It has been designed to give filter on your selfie photo but can also be used for normal photo. It contain 100+ free filters for use, you can also buy other feature if you want to. But free filters are more than enough to make your selfie perfect.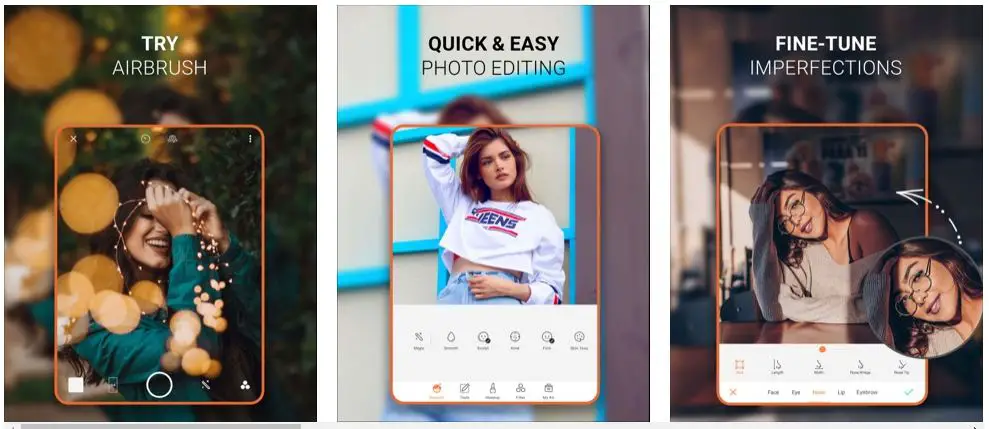 Touch ReTouch
Touch ReTouch app comes with in-built features to remove any unwanted object from your photo. If you got your photo with amazing background or with appealing pose but few object or person are ruining your photo then this app is perfect for you. Along with removing unwanted object or even thin line from your photo, you will be able to fix your damage photo by using clone feature. It is time saver when you want to fix any photo quickly.
Facetune2: Best Selfie Editing
Facetune2 is next version of Facetune app. This apps is perfect to hide your age by changing skin tone of your skin. You can even change the shape of your nose; whiten your teeth to give wide smile. It helps you to take your selfie to next level of instant editing by face recognition, fingertip brushing effect etc.
Perfect365: One tap makeover
Perfect365 is a perfect app to make your selfie a beauty queen. One tap makeover means you can edit your lips, eyelashes, skintone, hair style, hair color in just a single click. It's contain all in one feature which will make your selfie a perfect.
PicLab- Photo Editor
It is best app if you want express your feeling by writing on your selfie. It contains typography features which makes your photo more memorable by writing the event on the photo. You can add inbuilt template, various sticker to your photos.
With the collection of above best filter app for selfies, you can click your perfect photo and share among your friends. Editing photo was never so easier under your finger tips until such apps were developed. Now you can edit your photo by just a single tap as per your choice.
Want to get similar cool tech stuffs in you Inbox? Subscribe to my Feed!