Nowadays businesses are going online. Hence, all the sensitive data are kept on cloud servers which are secure so that you don't lose data.  But, you may have heard "nothing is safe online" because there are many tools and techniques out there which can be used to manipulate servers to hack them. There are many hacker gangs active who can try hacking your precious data and then they may ask for ransom for returning the data. In other cases, due to some hardware or software malfunction, data can be lost as well.
So looking at these problems, the best advice one can give you is to keep a backup of your database so that when it crashes or hacked, you can restore it using the backup.
SQL Server Backup is easy to take, but still, when it comes to manual backup, you may feel lazy or not be consistent to take the backup regularly which puts your online business data at risk. Therefore, there are tools developed which do this database backing up job very easily.
There are so many tools available on the web but recently I found one of the best ones in the business, and that is SqlBak.com which takes regular backups of your SQL database, monitor it, and restore when needed.
Features of SqlBak
You can schedule database backups as per the requirement.
Store the backups to different cloud platforms such as DropBox, Amazon S3, Google Drive, etc.
You can set an alert about monitoring as SqlBak monitors your database server performance as well. It keeps sending you the report of your DB server performance.
You can restore the database in just a few clicks in case you lose the database. It is even easier when you are accessing it from mobile; you can just tap to restore the DB backup. This is useful when you are out of town, and you get the news that you lost the DB. If you are using SqlBak, you can just tap restore to restore the database.
Now, you know there are enough reasons why you need to keep backing up your database. And, I am sure you also know using a tool like SqlBak relieves us so much when it comes to backup.
How to use SqlBak?
1 ) Using SqlBak is very easy.  First of all, go to its official website at sqlbak.com, and click "Download" which will send you to a page where you will get the download link of the SqlBak desktop app.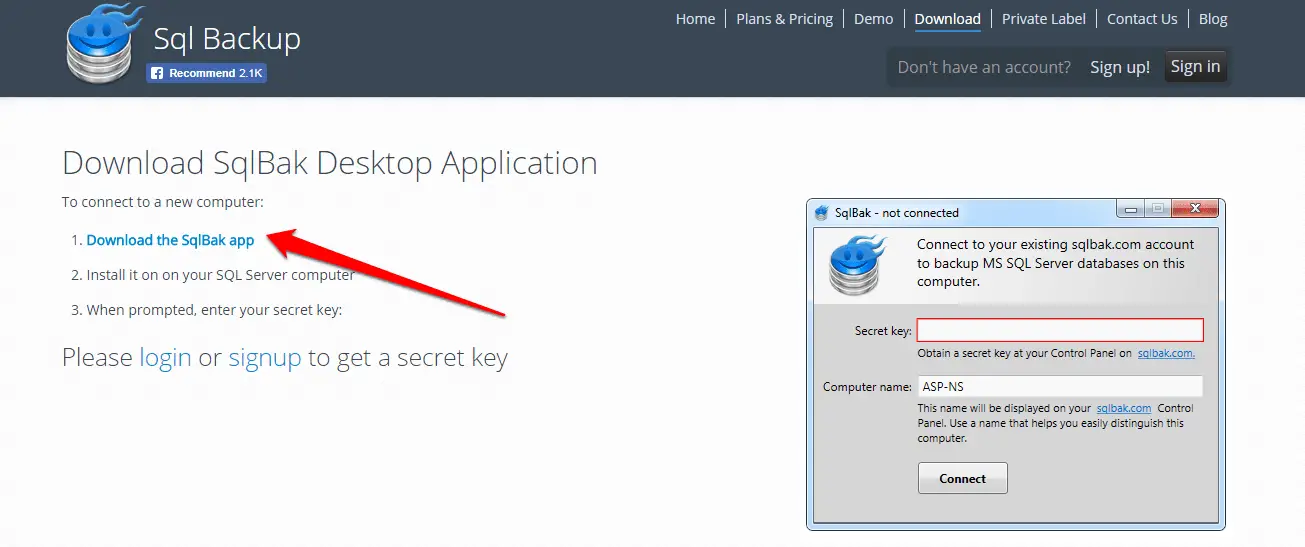 Click to download.
2 ) Once downloaded, install the application, and run it. When you run it, it will ask a "Secret Key" which you can get when you signup on sqlbak.com. Go, register yourself there.
3 ) Once you are registered, you will see this page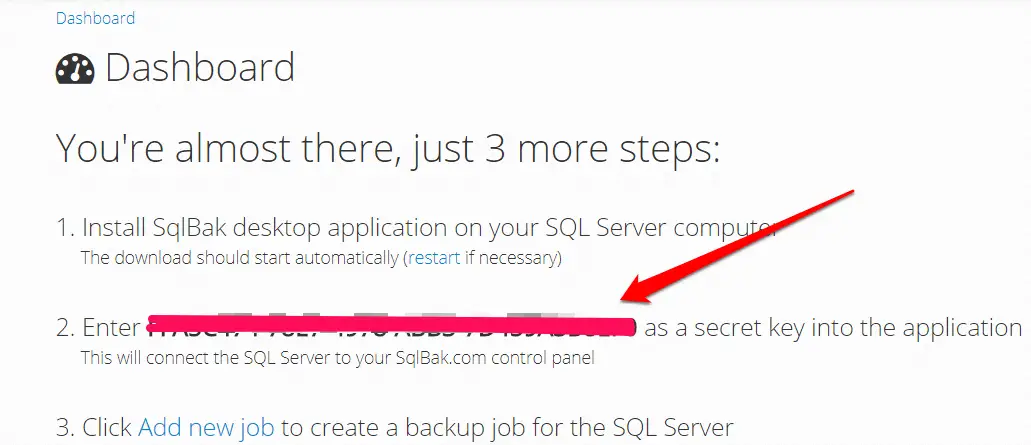 4 ) Copy the Secret Key, and enter into your Desktop app.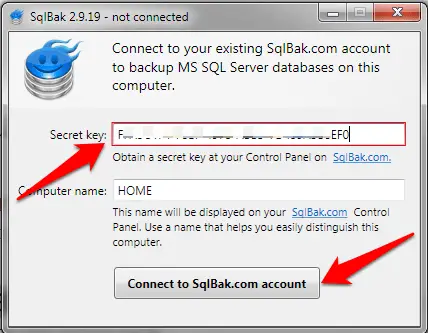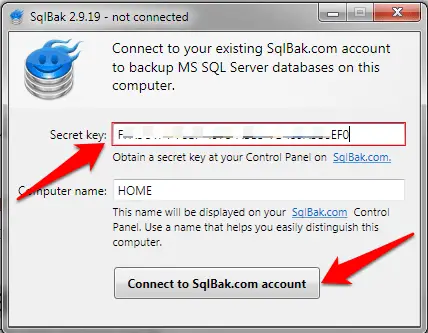 And, click the button "connect to SqlBak.com account", and in few seconds the app will be connected with your account at sqlbak.com.
5 ) Further, you will be asked to enter the SQL server credentials to log in to the SQL Server where your database is kept.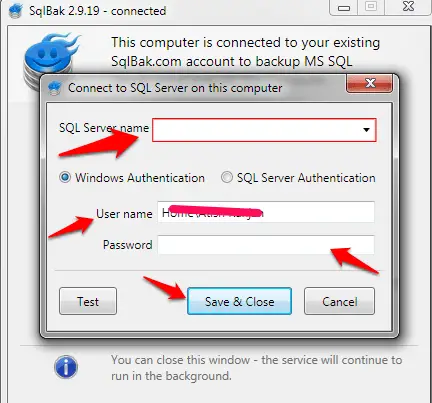 Enter the credentials to authenticate. Once entered, test the connection by clicking "Test" button. If everything is fine, click Save & Close. Now, you can close the app.
6 ) It is time to go to your account dashboard at sqlbak.com and Add a new backup job.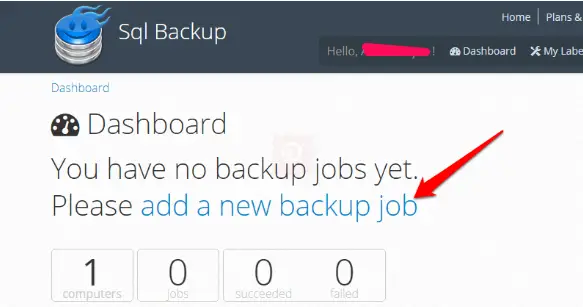 You will be asked many details which you have to enter as per the requirements. You will also be asked to select the database. Select the one that you want to back up. You will get the list of the database stored on the SQL server you authenticated; you just need to select the DB to backup.
7 ) Once everything is done, you will see the job status as:

All done!
8 ) At any point of time, you need to restore the DB; you just need to click on restore button as shown below:

In a few clicks, you will be able to completely restore the lost data.  🙂
9 ) For getting the alerts about server performance, you can go to Health Check, enter your email address, and select the Server.

Pricing
The basic plan of SqlBak is Free but you will get fewer features, and there will be limits. To remove the limitation, you can upgrade your plan.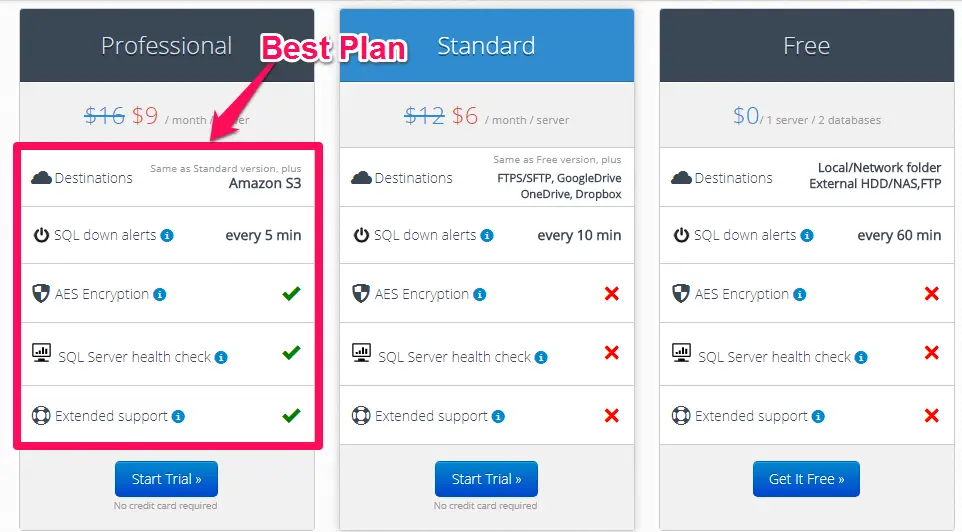 Even its professional plan is just $9/mo which is quite affordable.
Conclusion
A database is the backbone of every business no matter online or offline. When we talk about online business, we really need to setup a backup service to save our business because if your sensitive and important data gets crashed, and you lose it, you will have to go through a big loss. So investing $9/month is worth for saving your business from risk.
Let me know if you have any question about SqlBak.com
Want to get similar cool tech stuffs in you Inbox? Subscribe to my Feed!