Video are the best way to express or explain anything to anyone. You must have noticed about yourself that you remember the scene of movie or any video snapshot for longer time if you have seen it on screen.
This is the main reason that everyone and even you prefer to watch videos as compare to plain text information for e.g. Tutorials for learning any topic, songs, news etc. As YouTube has large numbers of videos for all types of videos you would always like to refer to YouTube if you want to check any video.
And I am sure that you must be using some download manager for downloading the videos from YouTube and many times you must have faced the problem that download manager pop-up to say that this video format cannot be downloaded by using the download manager. And this issue arises because sometime your download manager cannot access secure pages. This same problem can be seen in computer application or even in your android mobile application.
 Today I am going to introduce YouTube downloader for your android device which will not only going to help you to download video from YouTube in particular format but will also download videos from secure page without any issue.
This downloader has many features out of which some are as follow:
#1. Easily detect the videos URL even hidden URL which can be used to download the video.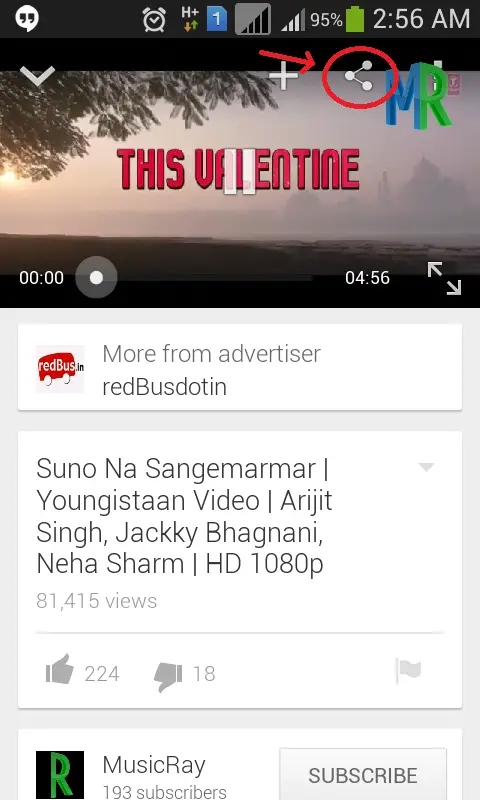 Once you have searched the video of your interest you can click on share button where you will get list of option button for sharing the video with your friends using facebook, whatsapp, email, twitter, wifi etc. Scroll down to find the dentex youtube downloader, once you find it click on it.
#2. Download YouTube videos in different format
Once you clicked on YouTube Downloader as mention in step #1, you will get options for selecting the video available in different format with different size. It's up to you to select any one available video format to proceed with downloading.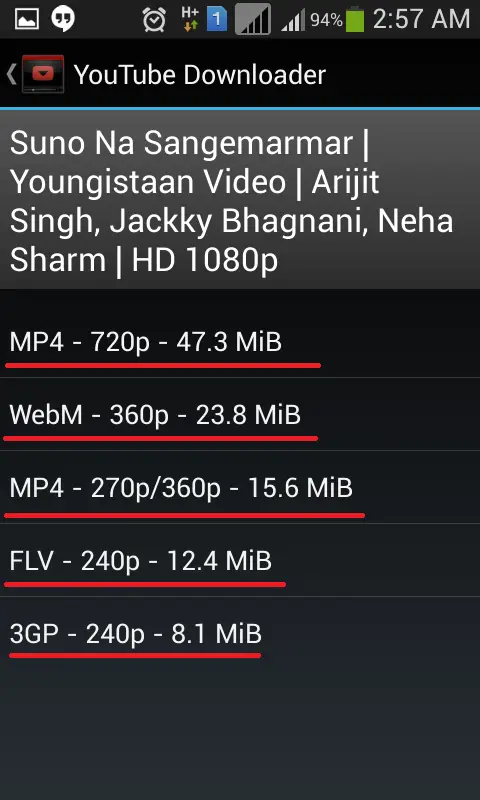 #3. Filter the available video as per your requirement.
In step #2, there is an option for filtering the video based on format & quality. You can select the format to filter the other formats which you don't want. And you can also filter the available videos based on its quality.
This filter has been provided so that you can select the appropriate video according to your network speed and memory available in your device.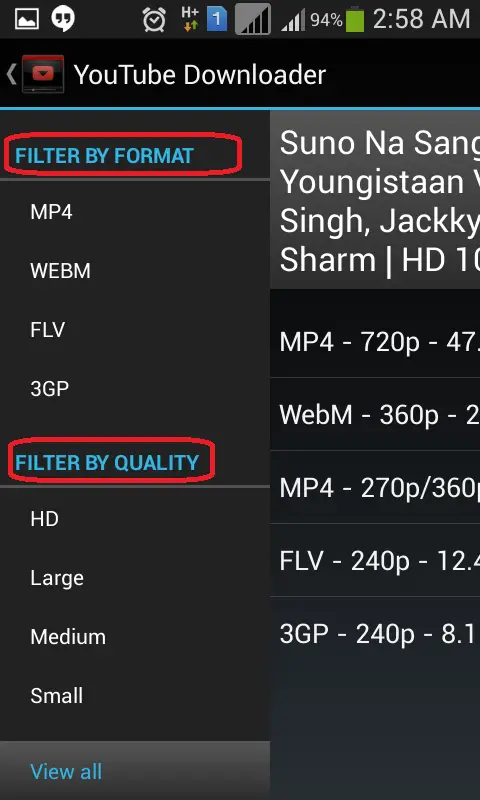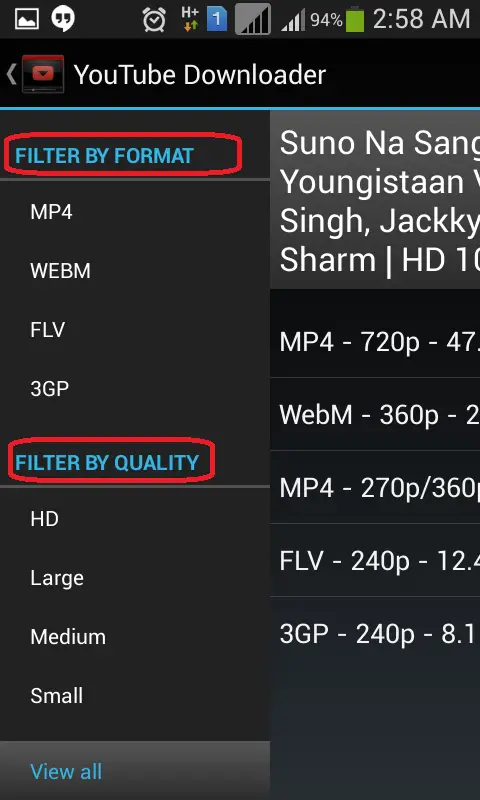 #4. Background download
This downloader also supports the feature of background downloading. Yes, that means you don't have to keep your window open while downloading the video.
It will notify you once the downloading is complete.
#5. Backup, Restore, Import files, Empty dashboard and launch youtube facility on Youtube downloader dashboard.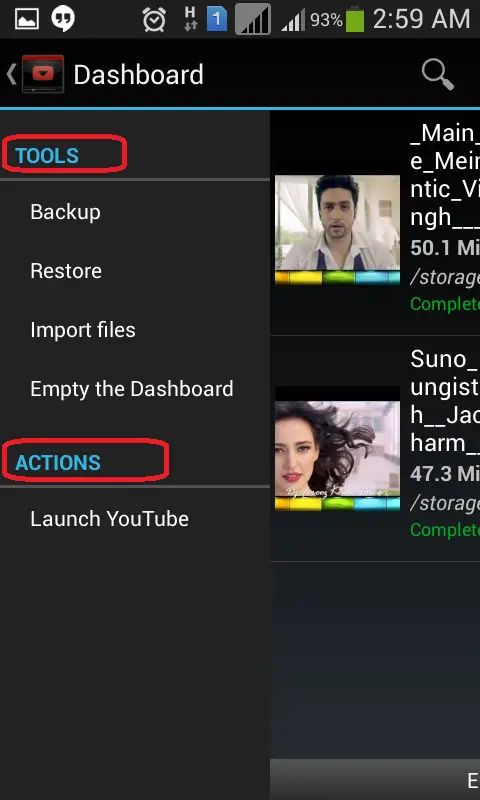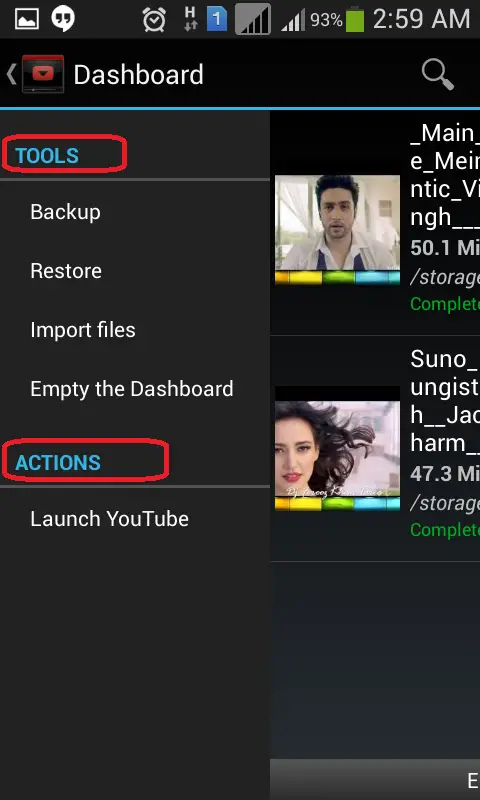 # Backup: You can take backup of your downloaded video using this option. This option will save your backup file in '.json' format which can be easily retrieve using restore option.
#Restore: This option allow you to restore the files which you have taken backup previously.
#Import Files: Import Files allows you to import the video available in SD card/internal memory to YouTube downloader dashboard.
#Empty Dashboard: This option clear the dashboard completely. Don't worry, you won't lose your downloaded video since this option just clear the dashboard and do not delete the files permanently from your device. Even if you want to delete the files permanently you can do it by checking the checkbox which pops-up when you click on #EmptyDashboard.
#Launch Youtube: This is direct button to redirect you to YouTube homepage.
#6. Extract audio from video and encode to MP3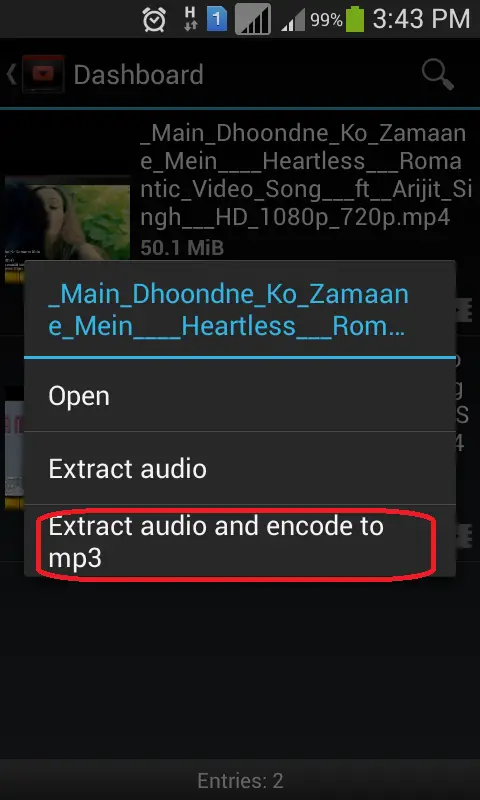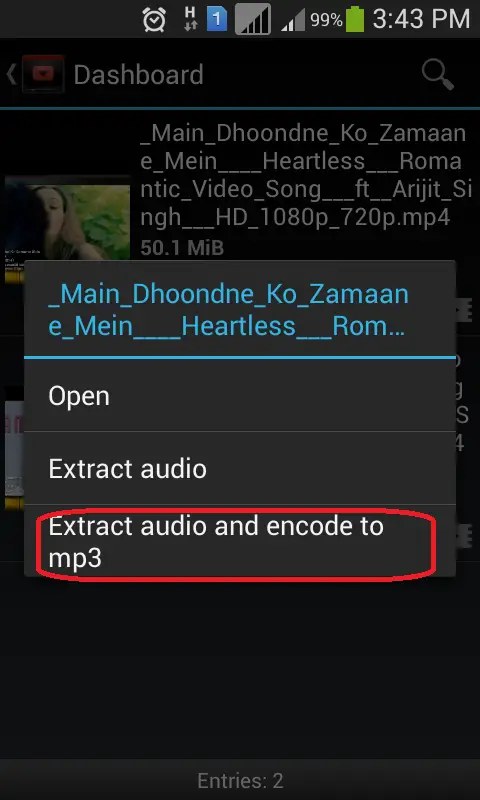 In this downloader you can directly convert the downloaded videos into MP3, just in one click. That means you don't have to dig on play store to find app that will convert your video into MP3.
Ready to use this downloader; get this downloader from here for your android Smartphone.
Share this app with your friends and do let me know your experience of using YouTube downloader.
Want to get similar cool tech stuffs in you Inbox? Subscribe to my Feed!