Photos help to keep the memory live and videos add cherish to the memory. Whether its memory of childhood, school days, college days, adventurous trip etc… Converting photos to movie clip makes that moment unforgettable.
If you have a good awesome collection of photos and want to convert it to movie clip then you don't have to be a professional movie maker. There are many online tools and downloadable software available for easy movie makers. Out of which, I have given a try to one of them and it was an awesome experience using it, so thought to share with you.
The software of which I am about to discuss is named as 'Photo Movie Theater'. It's really very easy to operate with good user interface.
Let's explore the feature of Photo Movie Theater.
Convert photos to Movie clip using Photo Movie Theater:
#1. Download the software
Download the latest version of Photo Movie Theater. These provide a trail version for personal use. This software cost $35.95 (In case if you want to buy). I know there are lot many software available for free of cost. But I would recommend you to use this trail version because while using free/cracked version there may have chances to get affected to your PC. Since this is paid software, you can be sure that they will not try to harm your PC using the trail version because they can't afford to lose their customer.
#2. Install it in your system
Once you have downloaded this Photo Movie Maker, just install it in your system.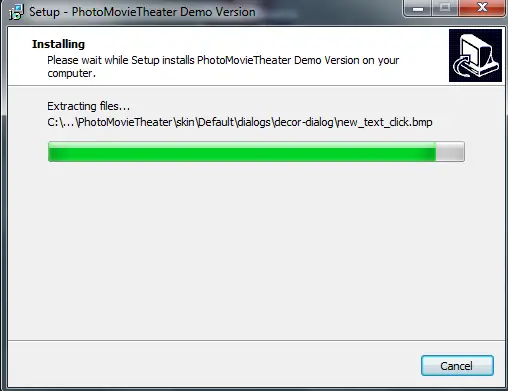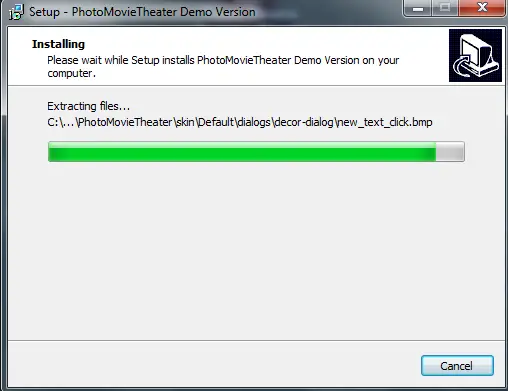 Now launch the software after installing is finish.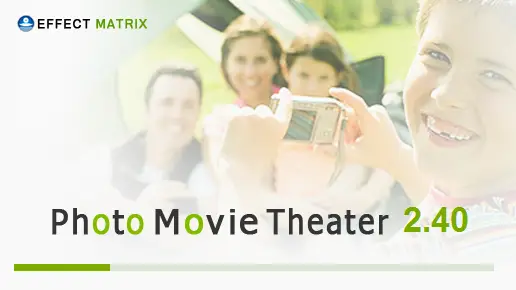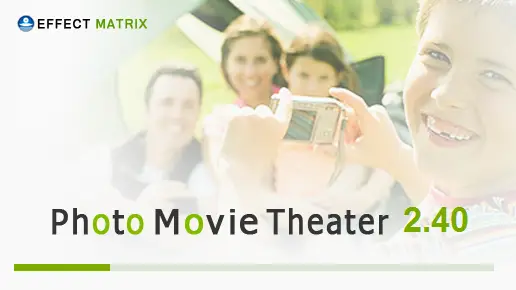 #3. Start photo movie theater
These is the first window appears as soon as the Movie theater is launched. It has option to open the previously saved movie clip or to make a new movie clip. Since all the operation which you will be performing in previously stored clip is same as the operation which you would perform while creating new movie clip. So click on 'Create' button to start with fresh and new interface to create movie clip of your choices.
#4. Four tabs to create movie clip
For creating the movie clip you need to go through the given 4 tabs i.e. import, transition, Makeup & publish one by one. These 4 tabs will help you to create the movie clip even if you don't have any knowledge of multimedia.

#5. First tab i.e. Import
At these step you can import all your images which you want to be included in the movie clip.
Left side of window, which has listed folders, helps you to navigate to the required folder to select the images.
Right side of window shows the preview of the images from selected folders.
Bottom window shows the frame/scene included for creating movie clip. In single scene you can add multiple images. Even if you want to add more than one scene in your movie clip, you can do it by using 'New Scene' option available at top of bottom window.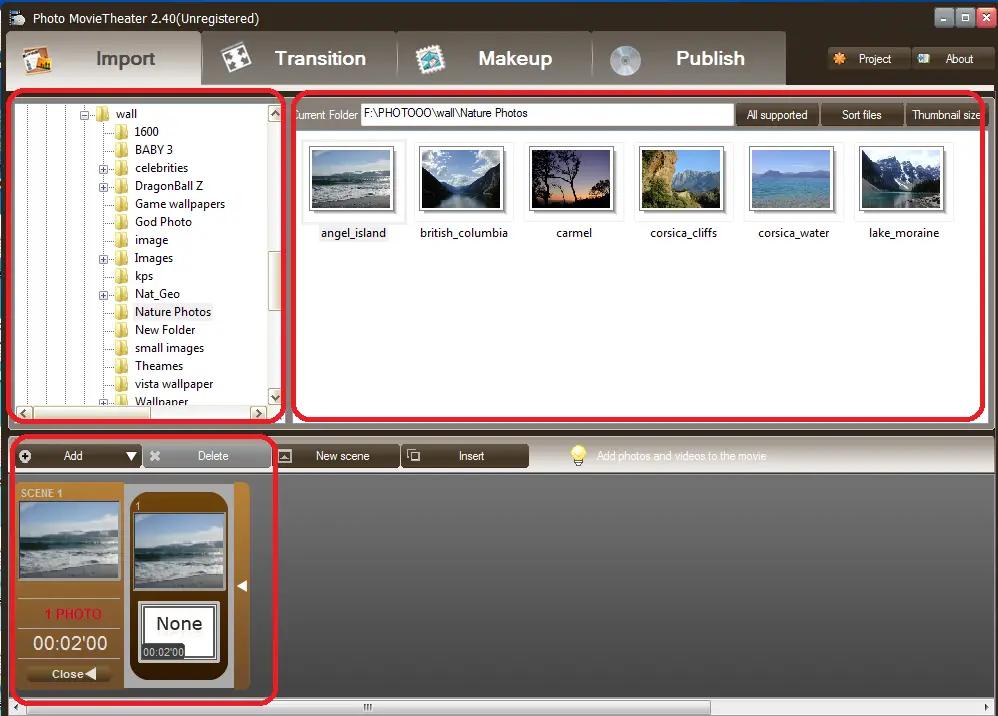 Adding images in the frame: Select any or all images from right side of window then 'Right click >> Add/Add all' option.
Deleting images from the frame: Suppose you have added multiple images in the single scene and you want to delete one of the images, you can simply do this by using 'Delete' button on keyboard after selecting that particular image. Alternatively you can use 'Delete' option available on top of bottom window or 'Right click on image >>Delete' option as shown below.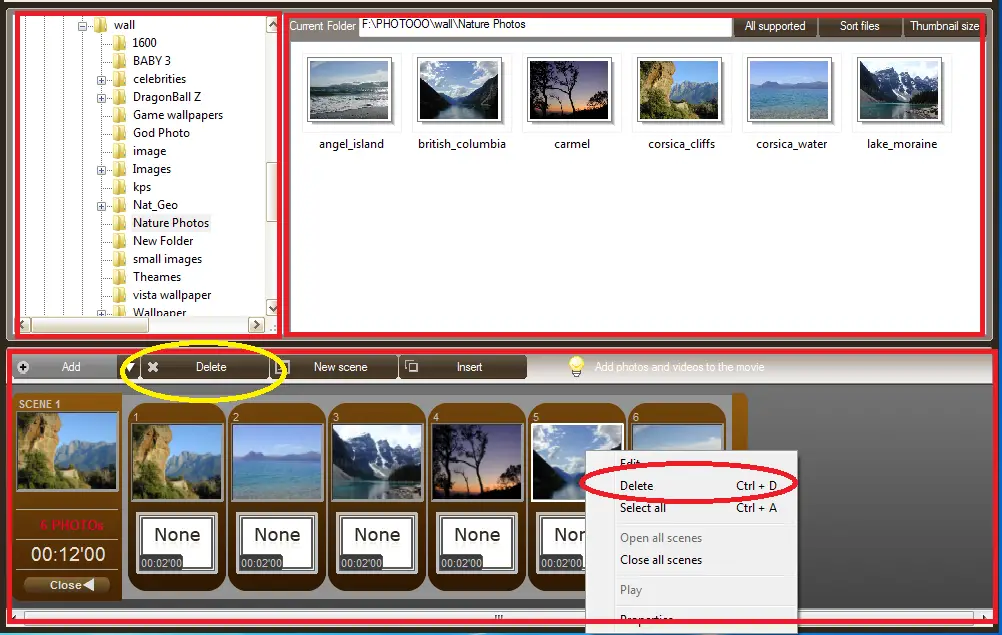 #6. Next tab : Transition.
This is a tab where you can add animation in your movie clip. Before proceeding further, please have a look over the single transition image icon where you can see a digit i.e number at bottom right corner on each transition image icon.

This number signifies the number of images would require for applying this transition. To apply this transition you don't have to select that many images. It will automatically select the required number of images added in the frame of single scene. In case, if images are less than the required images then it will add blank frame to complete the number of images.
Adding transition on image: To add any of transition, firstly select the image then select transition effect whose preview can be seen on right side of window. Right click on transition image icon follow by add option to add that transition in your movie clip.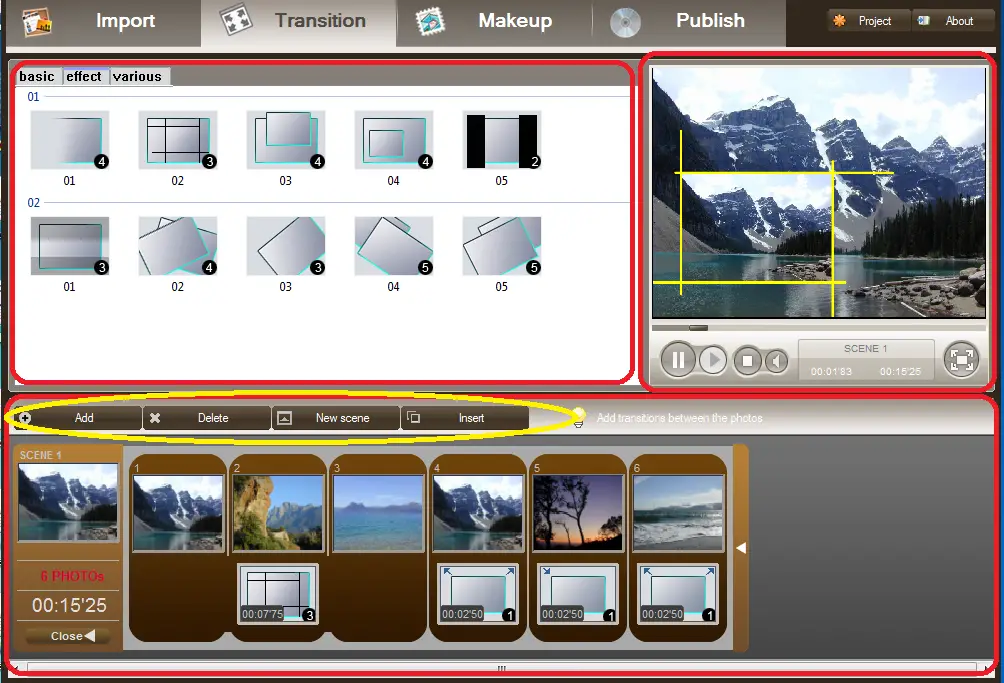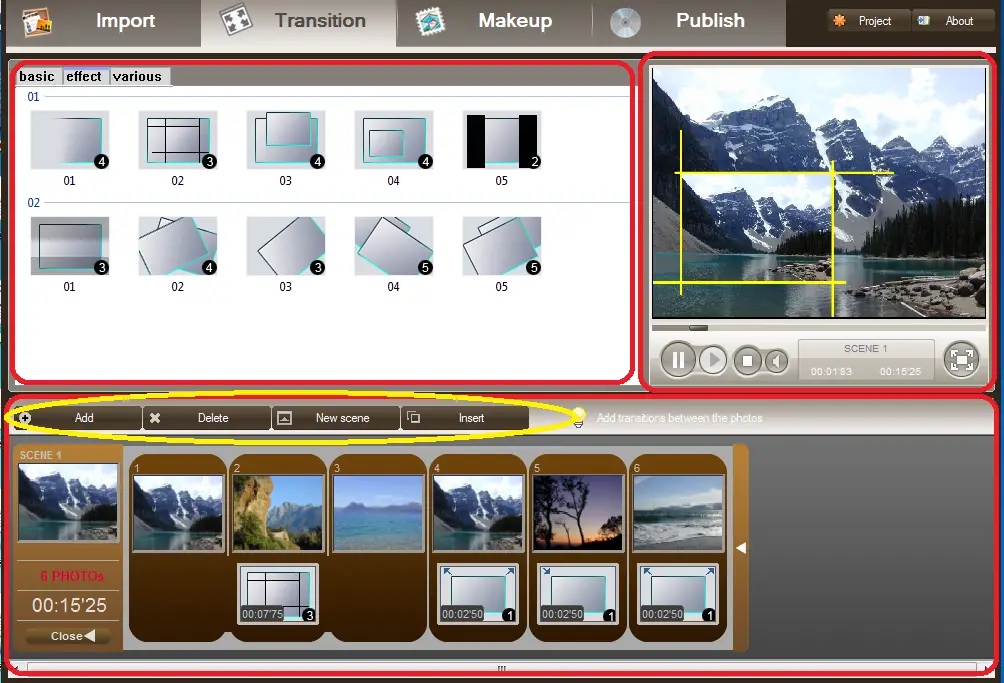 Delete transition effect: This step is same as deleting image from scene. Just right click on transition image in the scene follow by delete option.
#7. Next tab: Makeup
This is second most important tab for creating movie clip. Adding music to clip, adding text in clip, adding image clip in movie clip, adding effect to clip etc can be done in this tab.
Adding effect/music/text/record: Select the music/effect/text/record of your choice then click and drag to respective track to apply the effect.
Applied effect can be seen in the preview window present on right side of the screen.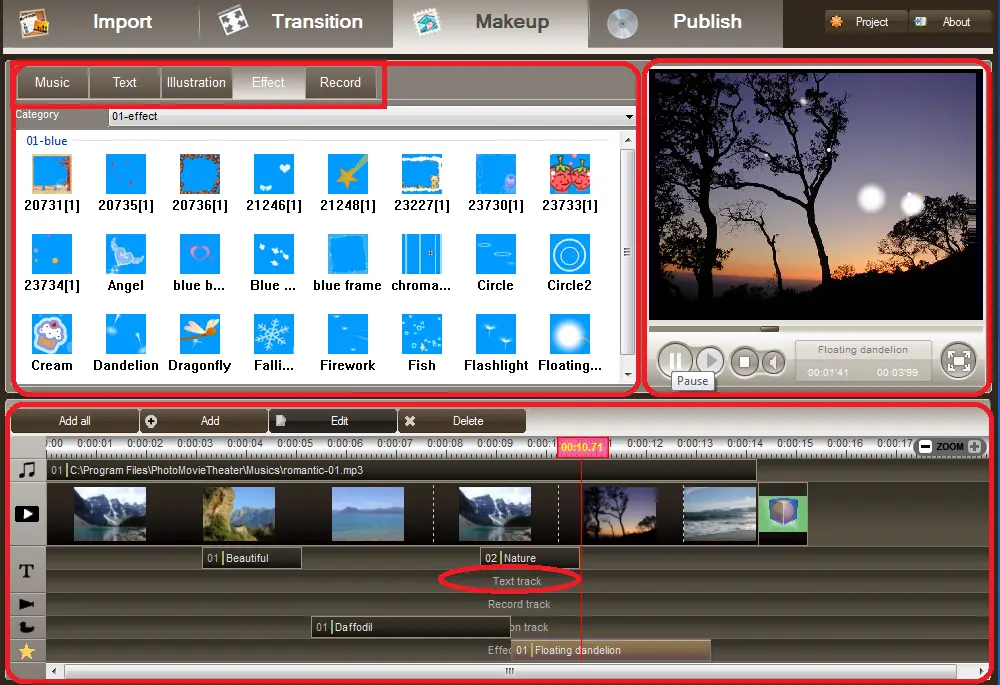 Delete effect from clip: Select and right click on the applied music/text/record/effect overt the track followed by delete option.
#8. Next tab: Publish
This is the last step to finalize your movie clip. Just select the format of the video and click on 'Publish' button to name and save your video.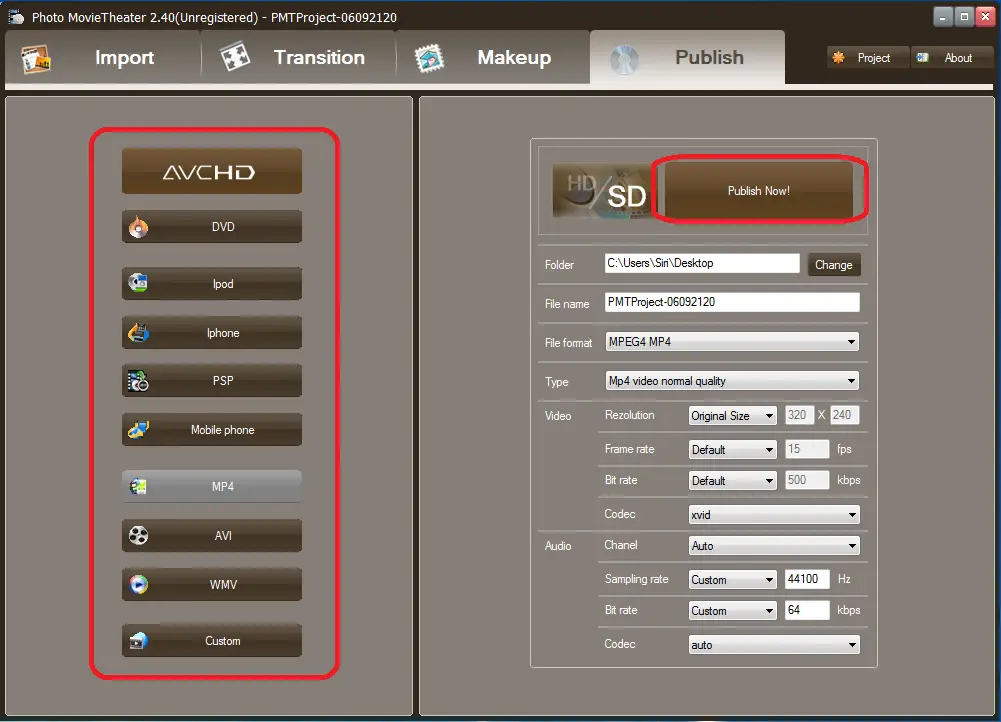 Once you click on save button this software will start converting all the images and effect into movie clip.

Now your video is ready to share with your friends and family member.
Note: The published video will contain watermark of this software since you are using trail version of this software.
Now make a video of special occasion and save, share it with your loved one.
Want to get similar cool tech stuffs in you Inbox? Subscribe to my Feed!