TransferWise is a quick and easy online money transfer service provider that allows its users to transfer their money in a much cheaper way as compared to the banks. The entire dashboard, as well as the money transfer procedure, is extremely simple. TransferWise allows expensive international payments through two different local transfers rather than making just a single transaction. This cheapest way to international money transfer will help you to save your money which you pay to bank as service charges.
If a user who is willing to convert his or her pounds to euros, then he or she needs to send the money in pounds to the UK-based account of TransferWise. Then recipient account is credited with the same amount of money from the euro account of the TransferWise. This is just an internal process of TransferWise, you don't have to bother about it. You can check below, how easy it is to transfer money internationally.
The advanced system ensures that the money never moves from one country to another but the conversion of currency is being done through the real mid-market exchange rate. TransferWise use this process to help its customers in avoiding normal banking fees.
Benefits of using TransferWise
Transfer money across borders at eight times cheaper rate as compared to a regular high street bank.
Unlike other service providers, TransferWise maintains transparency in terms of costs.
Helps users to make their transfer in the easiest way.
Regulated by the Financial Conduct Authority, TransferWise is being trusted by over 3 million people all across the world.
The money is being transferred directly into the recipient's bank account.
How much does it cost to transfer money through TransferWise?
From Euro to pound transfer, the upfront fee of the TransferWise is 80p plus 0.35 per cent of the total transfer amount. Let us put it this way, if you are transferring £1000  into euros through bank transfer, you have to pay £4.29 as a service charge.
What is the exchange rate of TransferWise?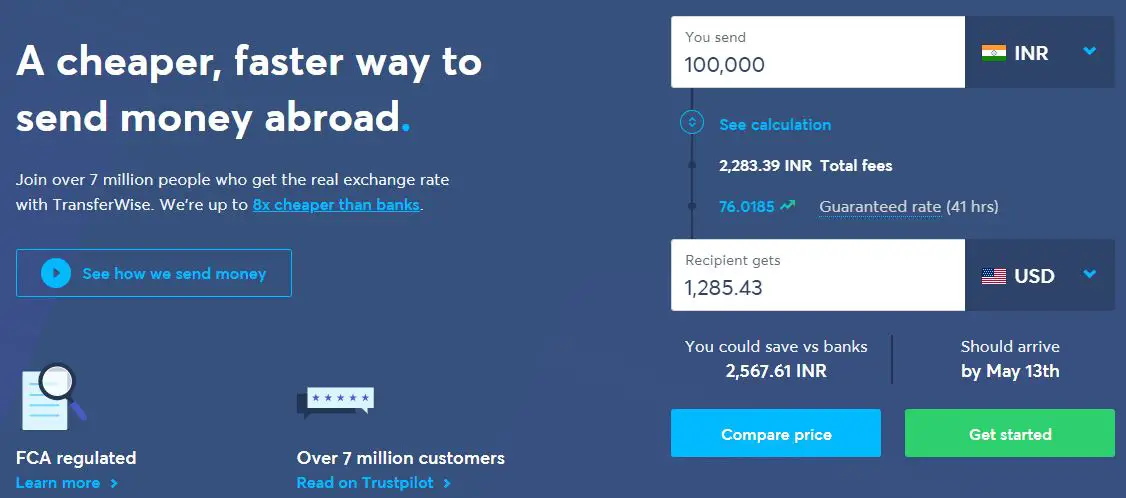 There are some banks which don't provide this rate to their customers. Rather they put a mark-up into the mid-market rate as well as keep the difference. But TransferWise maintains transparency of exchange rate with its customers.You can check its exchange rate live on the website. It believes in the real and mid-market exchange rate.
Is it safe to use TranferWise?
A financial regulatory body, Financial Conduct Authority regulates TransferWise. Hence customer information is verified by the authority ensuring no money laundering or fraudulent activities take places.
TransferWise: Cheapest way to International Money Transfer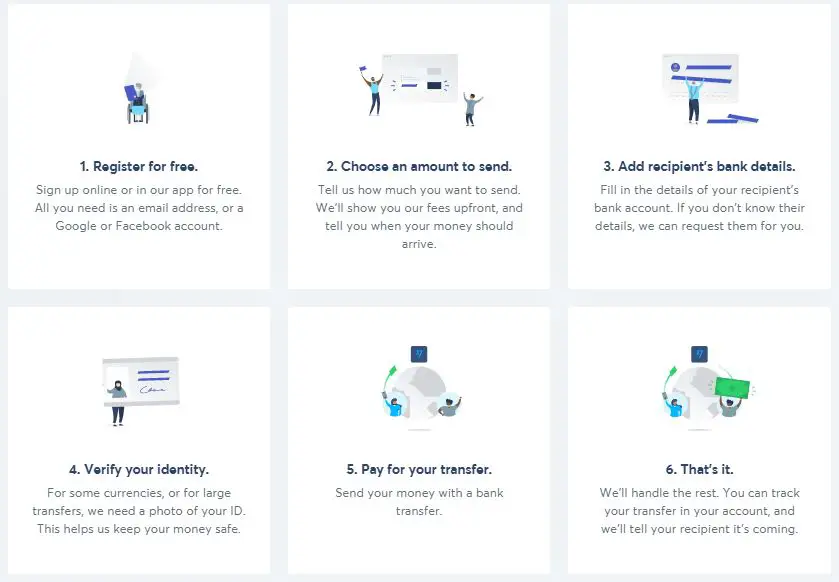 Firstly you have to visit the official website of TransferWise. Fill up all your details and amount you want to transfer. Website will show you the service charges charged by Transferwise. You have an option to send money using your debit card or online bank account.
Once done, the money will instantly get transferred to the recipient's bank account. In this entire process, you will receive two confirmation mail from Transferwise. First when money is received by Transferwise and second mail when money is credit into recipient account.
It takes 3 to 7 working days for the banks to complete the entire international payment. However one business day is enough to transfers from the UK to Europe. This shows how Transferwise service is fast and hassle free for transferring money internationally.
TransferWise has many benefits which not only helps you in saving money on international payments but it is also much more efficient in terms of service. We hope this article was helpful to you.
Want to get similar cool tech stuffs in you Inbox? Subscribe to my Feed!